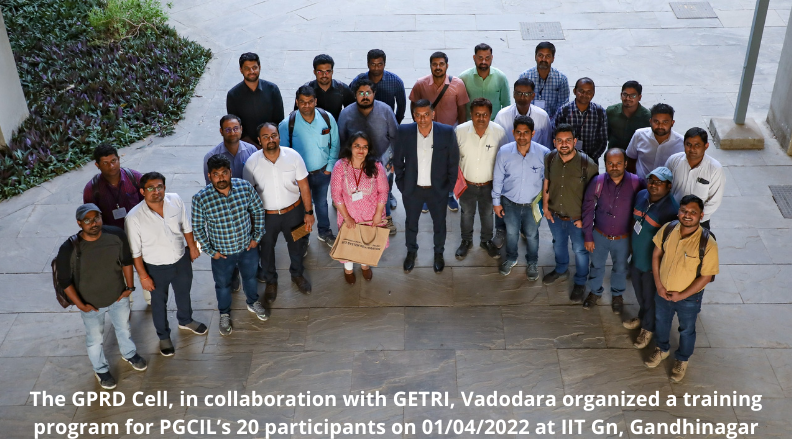 The Gujarat Power Research & Development Cell (GPRD Cell), GUVNL in collaboration with GETRI, Vadodara had organized a one day training program on the 01st of April, 2022 on the discussion and interactions on the various research projects of GPRD for power distribution. Total 20 participants were there in the program from the Power Grid Corporation of India Limited (PGCIL) and came from various corners of India.
The training program was initiated and inaugurated with the welcome speech by Mr J B Upadhyay, I/c Head, GPRD Cell. He briefly introduced the GPRD Cell for its purpose of the establishment, its governing body, core areas of research, organization structure,
budgetary provisions for R&D work, some brief summary of initiated R & D projects, research papers published at the different national platforms, innovated Patents & recognization through various national awards, etc.
Once brief introduced, the training program continued with a research project presentation and discussion, started by Mr S P Rathod on two patented innovations viz." Distribution Loss Reduction with WatchDog Transformer" & another presentation on " Distribution Loss Reduction with Low Voltage System of 1.1 kV".
Subsequently, Mr R D Patel & Mr S P Rathod jointly presented one more innovation for the distribution field viz. "On site On Load CTPT Testing setup(OLTS) for HT Metering Installation precise testing". The participants were also demonstrated physically the Vehicle mounted OLTS and its functionalities.
Followed by lunch, Mr J H Borisagar and Mr J V Patel jointly presented other R&D products/projects viz. Remote Operated Air Break Switch with Earth Blade( On load and Off Load), Conductor Stinging device, Stoneless Dropout Fuse, Common Earthing clamp, Wedge connector & usage of AL 59 Conductor in the distribution field.
Two more very innovative projects were presented by Mr H M Sakariya and Mr U N Joshi, as "Automated Meter Reading (AMR) and thus Loss Reduction using LoRa-WAN communication Technology for metered consumers in Ag Area" and subsequently, by other projects on effective earthing system " Maintenance free, ready capsule and Pipe-In-Cage [PIC] type Earthing System".
All the above projects were discussed in length and interacted with the participants for their queries and inputs. This open forum resulted into the exchange of ideas and knowledge sharing which made the whole program very fruitful for the participants.
The training program concluded with a vote of thanks to all the stakeholders by Mrs Prima Tannarana, Deputy Engineer from GETRI, Vadodara. The presenters were awarded Momentous by GETRI for their efforts.