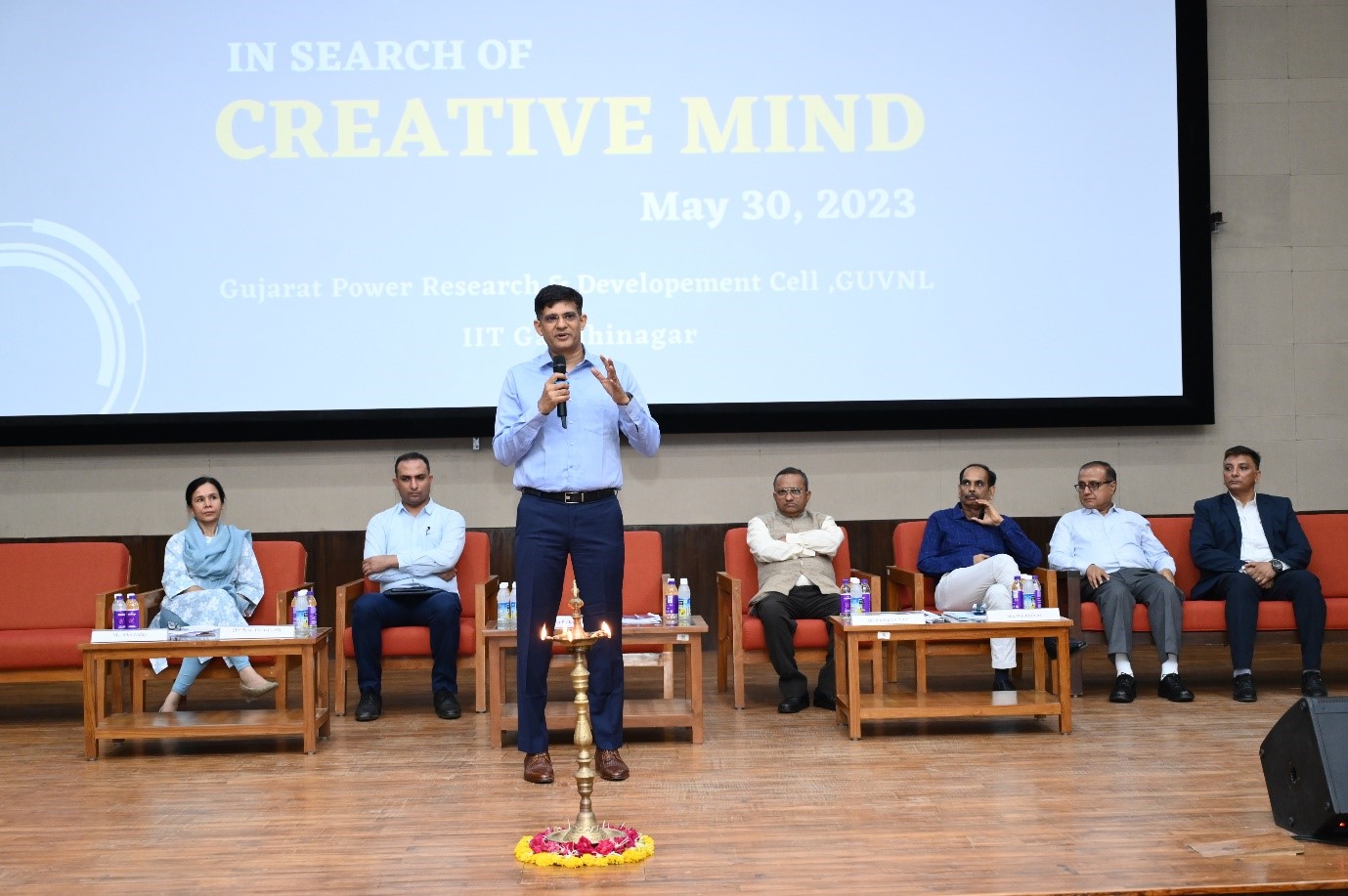 On 30-05-2023, Gujarat Power Research & Development (GPRD) Cell has organized one workshop at IIT Gn At Gandhinagar related to its research activities in the energy sector
The objective behind the establishment of Gujarat Power Research & Development Cell is to accelerate the growth engine of the state and the nation at large by developing innovative products and systems. Keeping this main objective in mind, the GPRD Cell has organised a workshop on dated : 30-05-2023 on the theme of "In Search of Creative Mind".
In this workshop, around 250 representatives such ACEs, SEs, EEs, DEs, JEs & Line Staff from GUVNL and its subsidiary companies like DGVCL, MGVCL, PGVCL, UGVCL, GETCO & GSECL were presented.
After welcoming the guests invited to the workshop by Mr. J B Upadhyay, Head of the Cell, Honorable Mr. Jai Prakash Shivahare, MD, GUVNL, Vadodara inaugurated the program by playing Deep Pragatya and National Anthem with the invited dignitaries.
As per the outline of the workshop, long-term MoUs were signed by the GPRD Cell with the Gujarat Technological University and GETRI.
This MoU was signed between the Hon'ble Mr. Dr. Pankajrai Patel, VC, GTU and Hon'ble Mr. H. P. Kothari, Director (Technical), GUVNL. The Hon'ble Mr. Dr. Pankajrai Patel, VC, GTU told that the MoU will open up research in the energy sector to GTU students in future. Also, another MoU was signed between Hon'ble Mrs. Alka Yadav, Director, GETRI and Hon'ble Mr. H. P. Kothari, Director (Technical), GUVNL.
On this occasion, GPRD Cell, GUVNL was awarded three patents by the Patents Department, Government of India, for research in the field of energy. In which research, for their invaluable contribution, Shri RB Patel, Retd ACE, UGVCL, Shri Jatin Upadhyay Shri. J.H.Borisagar, as well as Mr. S.P.Rathod of GPRD Cell were honoured by the GUVNL.
The main objective of the workshop was to generate discussion, new ideas and the resulting knowledge and skills in the field of Power sector. Further to this, GPRD has also launched a web portal to present innovative ideas online.
At the end of the workshop, Mr. Tejas Parmar, IAS, MD, MGVCL awarded prizes and certificates to the workshop winners.
Having expressed its gratitude to everyone who attended the workshop and participated in making it a success, the program was declared at the end.